My Latest Discovery: One Beautiful Phantom of the Opera Book!
I was thinking the other day that I wanted to reward myself in some tangible way for getting my first novel, 'Disfigured', finished and published as an eBook on Kindle.  I had an old, cheapo paperback copy of Gaston Leroux's 'Phantom of the Opera' that I referred to extensively for background info on Erik's life.  I decided I would treat myself to a collectible hardcover version, perhaps with some illustrations. I was hoping I might find a book with the original Andre Castaigne illustrations, which were included in the 1911 book.
I researched the various translations and versions on a POTO website I found called Erik's Dominion, so I knew there were some good ones out there to be discovered.  That is a good site, by the way; I've mentioned it in my blog before.  She has information about the collectible books and about the artist Castaigne as well.
I started my search for a book on EBay (well, where else?).  There was not much available, but one book caught my eye and I decided to buy it for my treat to myself.  Of course, after doing some research on the book later, I discovered I paid too much, but I still really love this book, and I wanted to tell other POTO fans and readers about it.
It's a large format, hardcover book from 2009,  featuring excerpts (so it does not contain the entire text of the book) from the original book in both English and French, and lavishly illustrated by the French artist Anne Bachelier.  I purchased what is considered the standard edition, and only 2,000 were printed.  I was absolutely mesmerized by the artwork – her illustrations are clearly done to the text of Leroux's book, and I think he would have loved it.  Until I found this book I had never heard of her, but she is well worth discovering. You don't buy this particular book for the text; you buy it for the gorgeous illustrations.  I am including a couple of them here that I found on the internet.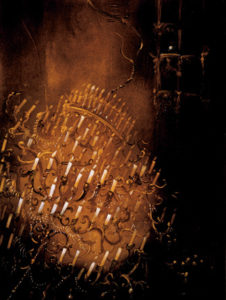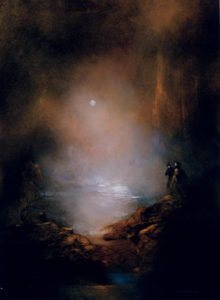 I was intrigued enough to do a little on-line research about Anne Bachelier's work on the POTO book, and about her in general.  Apparently she has collaborated on several works with the same Gallery, CFM Gallery in NYC.  One such was a retelling of 'Beauty and the Beast', which I can only imagine was amazing.  But to stick to the POTO volume, here is what the Gallery itself says about her work on this book:
"She revels  his (Leroux's) guttering candles, crystal chandeliers, shadowy corridors, relishing the opportunities they afford to indulge her love of chiaroscuro.
"Every element in the story seems tailored to her talents: The dizzying heights of the Paris Opera House's backstage rafters with their trapeze-like ropes and rigging, so like the theatrical settings of her paintings; the masks and opulent costumes, so like those of the characters born of her own imagination; the novel's beautiful heroine, Christine, with her delicate features and ivory skin so like those of a classic Bachelier ingénue; the Phantom himself, perhaps the most formidable among the many male grotesques that have courted, stalked, and menaced many of the female protagonists of her painted tableaux over the years –– all reciprocate the artist's humility by offering her an opportunity to crystallize, rather than subjugate, her singularly imaginative aesthetic vision."
I also found a link to a YouTube video that shows the artist creating a mixed media work of art at a castle in France https://www.youtube.com/watch?v=7nNVDxb5SMY.  Out of her fevered imagination come these astonishingly beautiful paintings, and it is fascinating to watch her work.  I found her illustrations fantastical, color-saturated, mythical, and somehow also quintessentially French.  A few of the pen and ink style drawings remind me of Aubrey Beardsley.
This book can be found through Amazon, and for considerably less than I paid for it (and no, I'm not telling how much!), and I do highly recommend it for anyone who loves the romance of the Phantom story, as told in the original book. So I'm warning you now, do your research before you buy.  But if you do buy this particular book, I doubt you will regret it.