Discovering Alexandre Dumas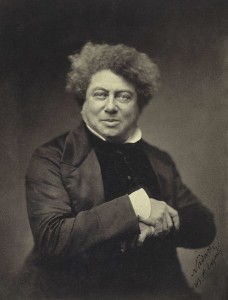 First let me make a confession:  I have absolutely no recollection of ever picking up a book by Dumas in my entire life, not even back in my school days.  I didn't know what I was missing!  I knew the titles, of course, and most of his novels were made into movies here and there.  But it was not until I wrote 'Disfigured' that I discovered this great author and very interesting Frenchman.  I was on the hunt for a favorite author for Sylvie, my heroine, who loves to read.  She lives a rather sedate life (at the beginning anyway!), and books are her escape into a life of adventure.
When I found that Dumas lived during that time period (he died in 1870), I settled on him as my choice for Sylvie's favorite writer.  I bought 'The Three Musketeers' to read first – it really is the proper place to begin.  Although, not to nitpick, there are three actual musketeers and one musketeer-in-training.  D'Artagnan is, of course, the latter – a young hothead, always ready to challenge someone to a duel or romance a pretty girl.  He is always everyone's favorite, but just like Sylvie, I could not resist Athos.  Read it and you'll see why.
I must admit I was surprised by how much I enjoyed reading 'The Three Musketeers'.  They do manage to endear themselves to the reader – they are always in need of money, one is always drunk, one is incredibly vain, one is trying to balance his love of the religious life with being a soldier, and the other is, well, D'Artagnan.  The first thing he does upon arriving on the scene, is pick a fight and challenge the other three to duel, all at the same time.  So naturally they all become fast friends.  A word of warning, though, for anyone picking up this book for the first time: it does begin in a very lighthearted vein, but it does not stay that way.  The story picks up gravitas as it goes along and ends up being quite serious, a political thriller of its day.  Also worthy of note:  this book features one of the most evil female villains ever created!
Somewhere during my researches into Dumas' books, I came up with the idea of beginning each chapter in 'Disfigured' with an appropriate quote from either one of his books, or quotes from his own personal writings.  This was remarkably easy to do; it seemed as though they were meant for each other.  He even mentions "phantom"!  How could I not?
Alexandre Dumas led a colorful, interesting life.  He was of mixed race and proud of it, a revolutionary, larger than life, always in debt in spite of his success as a writer.  He indulged himself happily in many vices including drink and affairs of the heart, but still managed to produce a prolific body of work.  It was rumored that he had at least 40 mistresses during his lifetime.  Where did he find the time?  His books were usually set in the past, and usually involved political intrigues.  He worked with a partner who researched the historical side of the stories.  That being said, however, Dumas took many liberties with the past to further his tales.
'The Count of Monte Cristo'  remains to this day a fascinating story of betrayal and terrible revenge, and Dumas' description of Edmund Dantes, AKA the Count, sounded so much like a description of the Phantom that I absconded with it, word for word, to begin a chapter.  This is a long book, good reading for a long winter in front of the fire.
By the time Dumas died in 1870, he was poor and struggling, and his death was overshadowed by the Franco-Prussian War, which was in full swing at the time.  But in 2002 for the bicentennial of Dumas' birth, French President Jacques Chirac had a ceremony honoring the author by having his ashes reinterred at the mausoleum of the Panthéon of Paris, where many French luminaries were buried.