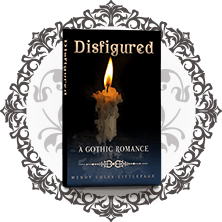 Disfigured
Kindle, Barnes & Noble
Lonely, friendless and a hopeless romantic, Sylvie Bessette dares to create a new life for herself as a professional cook in the city she loves. All goes according to plan until a chance meeting brings a mysterious job offer, one she can ill afford to decline. But how is Sylvie to know what strange and tempting danger lurks beneath the city streets?
Buy Now
About-Face
Kindle, Barnes & Noble
Taking up where 'Disfigured', left off, 'About-Face' continues the adventures of Erik, the former Phantom of the Opera, and his new wife, Sylvie. From the depths of the Paris Opera House to the wilds of America, they encounter new challenges and new villains, including a woman determined to have Erik for herself at all costs! Follow Erik and Sylvie as they experience personal tragedy, unexpected dangers, and a difficult choice that threatens to destroy their fragile new union. Separated by an ocean and an enemy, what will it take to bring them together again?
Buy Now