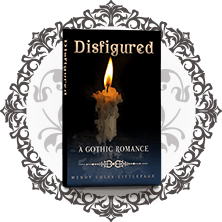 Disfigured
Kindle, Barnes & Noble
Lonely, friendless and a hopeless romantic, Sylvie Bessette dares to create a new life for herself as a professional cook in the city she loves. All goes according to plan until a chance meeting brings a mysterious job offer, one she can ill afford to decline. But how is Sylvie to know what strange and tempting danger lurks beneath the city streets?
Buy Now
Volte Face
Here is a sneak peek at the next book in the series About Face
Early Spring, 1873
"Christine…Christine. How could you do this to me? No…no…"
My husband's voice subsided into incoherent muttering, his arms thrashing restlessly in his sleep as though trying to ward off an unseen enemy. Jolted awake by the nightmare that tormented him, I lay in the dark feeling his body jerk and tremble next to me. I will admit that it pained me to hear that name on Erik's dreaming lips,
but it was hardly surprising under the circumstances.
I wondered if I ought to wake him. I had often done so before, when painful events of the past came back to haunt his dreams. I would shake him gently awake and hold him, soothing and comforting him until he drifted off to sleep again. Erik would not always remember his dreams upon awakening, but sometimes he did. Several dark nights were made even darker by the confessionshe made after one of those disturbing dreams, and each time I tried to give him some measure of absolution for his sins. The dreams, I knew, were borne of anguish, violence and guilt, but over time they had tapered off. I could not recall him having a nightmare of this length and severity for several months.

Wide awake now, I scrubbed my hands over my eyes and stared up into the dark folds of the canopy bed, frowning. I wondered what time it was. Feeling restless, I carefully lifted the blankets away and slipped out of the bed, my bare feet soundless on the thick Aubusson carpet. Lighting a candle, I peered at the clock on the mantel. It was nearly half past two in the morning. Blowing out the candle, I crossed to one of the windows overlooking the potager. Nothing could be seen except the darker masses of the trees, and far above them, the sparkling points of stars. Our private rooms were at the back of the chateau, overlooking a small kitchen potager terraced into the hill that rose behind the house. Beyond the neat boxwood hedge that bordered the potager, a wood of chestnut and oak ran up the hill, giving us the impression of sleeping in a treehouse.
Sighing, I came back to the warm bed, careful not to disturb him. I could see his shadowy outline as he lay on his back, quieter now, with only the occasional unintelligible sound escaping his lips. His breathing was gradually slowing to normal; the nightmare passing. Slowly I extended my hand, rested it on his broad chest, and soothed him with light circular motions over his warm skin. He made a little sound and then sighed softly in his sleep, murmuring, "Kitten," before falling into peaceful silence.

After over two blissful years of marriage, there was that name again, back to haunt Erik's dreams. He had been, I was certain, reliving in nightmare the fateful moment when Christine had exposed his face to an entire theatre of people. It was a betrayal he had never quite gotten over.
I really could not blame Erik for dreaming of Christine, the Comtess deChagny. It was not only that he once loved her with all the hopeless desperation of a madman. But after over two years without any contact whatsoever, this very afternoon she had appeared with shocking suddenness, uninvited, unexpected and unwelcome,
on the doorstep of our home.
Why had she come? How had she found us? I knew in my heart that it was not only Erik's sleep she had disturbed – but the very fabric of our lives.